An FDA-approved kit featuring a hot pink manual blood pressure measuring cuff that is latex-free, easy to use, and accurate. This kit is equipped with a stethoscope.
Product Benefits
Comfort and practicality
The cuff that is included is of a universal size (8.7-16.5 inches), making it comfortable for different body types. Additionally, the standard D-ring adjustable strap allows for adjustments to improve comfort.
Portable with included pouch
A trendy and practical pouch is included in the kit, allowing you to compactly and safely store all of the equipment and making it portable and travel-friendly.
No battery or electricity needed
This professional pink blood pressure cuff kit is completely manual and does not require any sort of batteries and/or electricity input. This feature makes it convenient to use just about anywhere and without the worry of recharging it!
Bright design of pink bp cuff
Clients often note the bright and unusual color of the cuff. This device has a pink cuff and a pink blood pressure gauge. All cuff tubes and stethoscope tube are black.
Stethoscope included
Manual Blood Pressure Cuff comes complete with a stethoscope. This makes the device fully-fledged and ready to measure pressure. You will not need to acquire an additional stethoscope.
Hypoallergenic
Manual Blood Pressure Cuff does not contain latex. This is great news for allergy sufferers with latex intolerance. The pouch is made of sturdy nylon. Most importantly, the manometer is made of zinc alloy.
Read More from Some of Our Happy Customers

Very glad to have one in our household
This is very handy to have at home especially with a diabetic in the family and other illnesses. I often need to take my blood pressure so this was a stylish set that was very affordable. Very complete as it comes with all the pieces and then some. Not the best stethoscope but does the job.

Accurate and Consistent BP Readings!
My wife has very small arms and it was next to impossible to get accurate BP readings with automatic BP cuffs. They were very painful and just kept pumping and squeezed her arm terribly. This manual cuff is great. I am able to get accurate and consistent readings every time. The YouTube tutorial was also very helpful. I would definitely recommend this product!

Very cute
I bought this for my daughter. She loves pink. She said it was real good, the only thing she didn't like is that you have to pull it up an arm like a sleeve and then wrap it around, but that's because she prefers just a wrap around. I think it's perfect because it's easier to roll together.

Amazing
I absolutely love this cuff. I was highly impressed that it included the guide to explain how to take a manual blood pressure & screwdriver to calibrate the machine, that is truly incredible. I have used it since Saturday on at least 14 patients & it is so easy to use and accurate, I will definitely be purchasing more items.

Great product, great price
I am replacing an old blood pressure kit that I bought and this one is great!! I love it. I purchased it because of the Velcro cuff. I need it for a smaller arm and it wraps around mine just fine. It came super fast too. Great buy!

Great deal on a good product
Love the bright pink color! It seems to be of good quality and works very well. The stethoscope is a basic one that works fine to check a blood pressure. I feel like it will last a long time, and it comes with a case to keep it in.
Why You Need a Sphygmomanometer by Paramed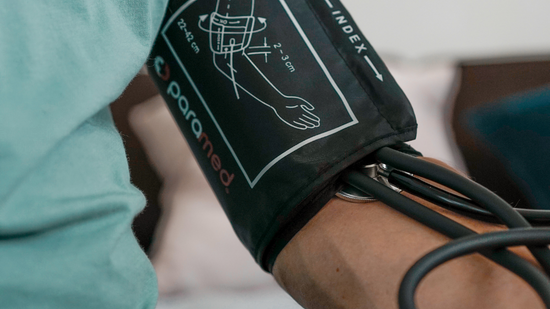 Become the owner of the original stethoscope and pink blood pressure cuff kit
This professional Manual Pink Blood Pressure Cuff Kit is both flashy and efficient. The hot pink color makes it a fun tool that will brighten up anyone's day. All the components of the kit are built with sturdy material, adding to its durability. Furthermore, the secure bag unit helps to keep all of the sensitive components safe while you're on the go.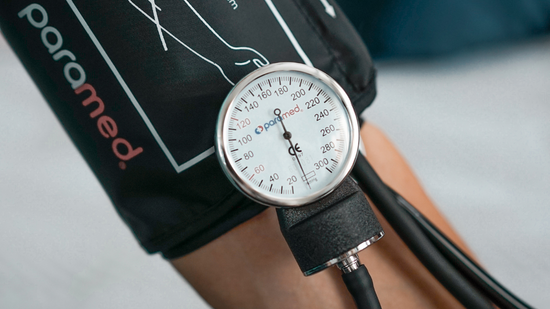 Practicability and performance of measuring with a sphygmomanometer
The manual blood pressure measurement process is more accurate than the digital and automated process. Moreover, contrary to popular belief, you do not need a special set of skills to operate a manual blood pressure monitoring kit. The steps are simple, the manometer is easy to read, and once you get the hang of it, you will find it to be quite simple.
Hot Pink Blood Pressure Cuff Paramed Comfort: Specifications
 Model No.

:

Comfort pink

Measurement range

:

0~З00mmHg

Measurement precision:

±ЗmmHg

Scale grading:
2mmHg
Built to
ЕN 1060-1\2 standards
Pressure sensor:

Resistive

Package

 

Dimension:

9.33 x 5.71 x 2.4 inches; 1.1 Pounds
What's in the box?
1 Sphygmomanometer,
1 Cuff,
1 Stethoscope,
1 Bulb and Valve
1 Carry bag,
1 User manual,
1 Guide manual.
Hot Pink Blood Pressure Cuff Paramed Comfort: How to use
1
Place the pink cuff around your arm
Make sure you're at ease and comfortable, free of caffeine, and haven't exercised for at least 30 minutes before taking the measurement. The pink cuff should be secured to your left arm, about an inch above your elbow joint, with the main wire running down the center of your left arm.
2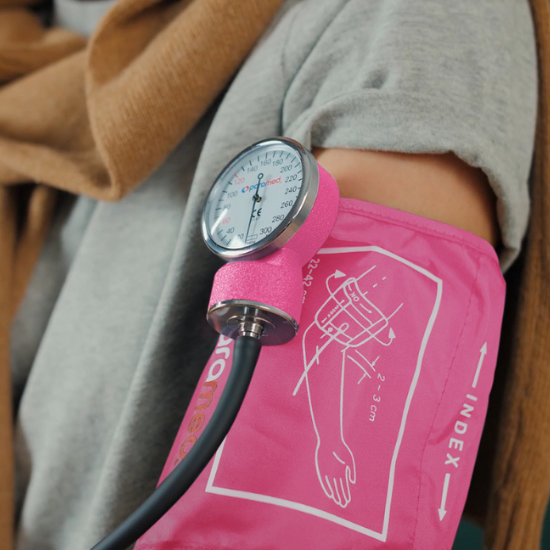 Position the manometer at a convenient location
The manometer features a handy clasp on the rear side that enables the examiner to fasten it anywhere that is practical and convenient for them to see while performing the test. This is crucial, as it enables quick measurement reading.
3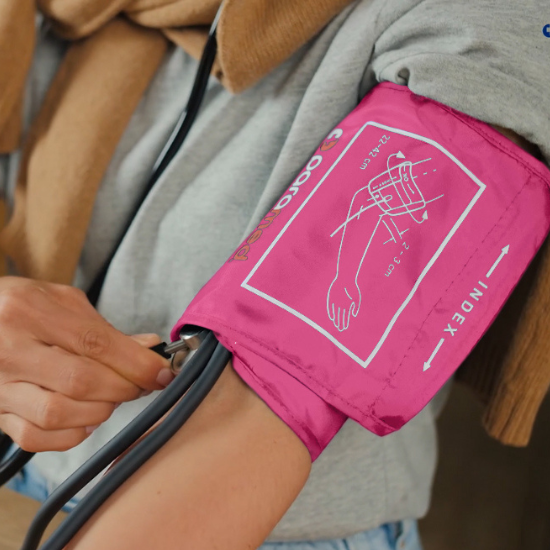 Next up is the stethoscope
Place the earpieces to your ears and snugly fit the ring on the humeral artery under the pink cuff. Try to listen very closely and to use this blood pressure cuff in complete silence in order to hear the Korotkoff sounds easily.
4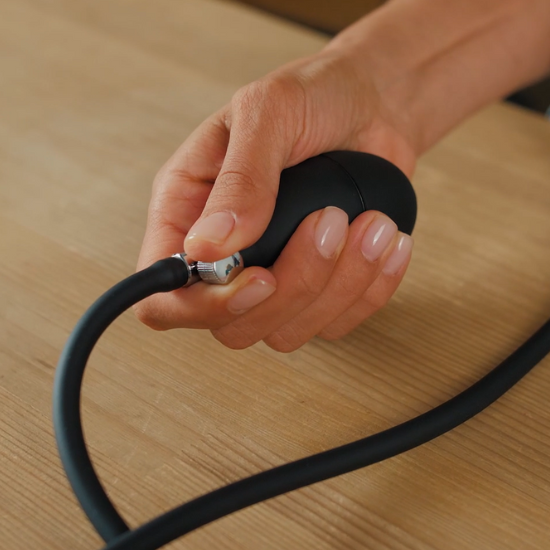 Fill the cuff with air
Next, fill the cuff with air using the inflation bulb. When the reading on the manometer reaches 30 mmHg higher than your average upper reading, stop filling the cuff with air and deflate it a bit. As you release air, listen for heartbeats through the stethoscope.
5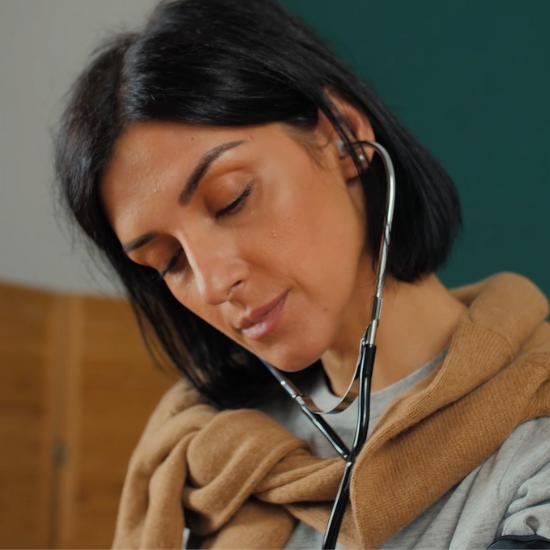 Reading the measurements accurately
The reading on the manometer that occurs when you hear the first beat is your systolic, or upper, pressure. The reading on the manometer when you hear your last heartbeat is your diastolic pressure. Make note of these numbers to keep track of them, and you have successfully used your professional manual hot pink blood pressure cuff kit!
Watch our video to learn how to use this sphygmomanometer to get the correct result. 
All your questions answered
Yes, your blood pressure can safely be measured multiple times. However, you should remove the blood pressure cuff from your arm entirely, wait a few minutes, and then place it back on before repeating the process. Also, always make sure your device is calibrated between uses.
To safely store your manual sphygmomanometer, make sure it is always securely placed in its designated bag when not in use. Further, always check to see that the tubes are not pinched while stored in the bag, as this may damage the tubes in the long run. Finally, handle the manometer gently.
Yes, a stethoscope is included in this blood pressure cuff kit. You don't need to buy anything extra
The manometer must be calibrated whenever the arrow in the manometer is not within the boundaries of the drawn rectangle at the bottom of the readings. Make it a habit to check the calibration prior to each usage.
Before using your sphygmomanometer with pink cuff, avoid smoking, caffeine, showers/baths, and any strenuous activity for at least 30 minutes. Try to relax, sit still, and attempt to breathe normally as you prepare for the test. During the process of checking your blood pressure, try to sit still and do not move or talk.
We are located in the USA. Usually, we ship the next business day after your purchase. Expected free delivery time: 3-5 business days. There is a possibility of urgent delivery.