Stethoscope and Blood Pressure Cuffs Kits
The Stethoscope and Sphygmomanometer Set is a good choice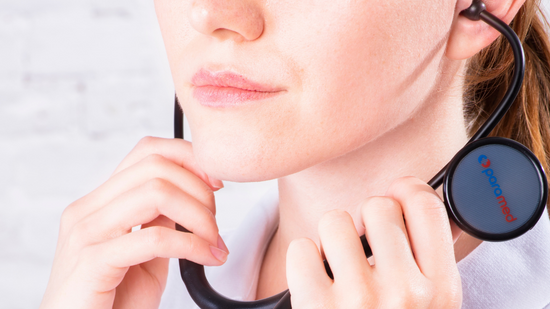 What is included in the manual blood pressure cuff kit?
An all-encompassing, premium quality and professional blood pressure measuring kit that includes a superior stethoscope, inflation bulb, aneroid manometer, comfortable cuff, and a portable pouch. This professional manual bp cuff kit already comes with a matching stethoscope so that you have everything you need to produce accurate results. It is clinically tested, user-friendly, and accessible to people of different needs, ages, and abilities. Everything you need to measure blood pressure promptly, accurately, and conveniently fits into the small, travel-sized pouch that allows you to take it anywhere you go and store it securely.
What benefits of sphygmomanometer our customers love
The easy-to-use manual sphygmomanometer set has a comfortable, universally sized, latex-free cuff with a D-ring adjustable strap, extended tube, premium Velcro, a manometer with a metal gauge zinc alloy and a steel strap on the back for secure placement, a durable nylon casing, and a soft inflation bulb. All for an affordable price and with multiple available colors to choose from!
READ SOME OF OUR HAPPY CUSTOMERS

High Quality | Sphygmomanometer, black
I am very happy with the manual bp cuff and stethoscope kit. First, i am impressed by its quality. Second, I'm impressed with the quality of the quick start guide, which is very well designed. Much of my professional life has been in the area of instructional design, so I appreciate the extra effort to include a genuinely useful and easy to follow document like this guide. Third, and this may seem like a minor point, but the assembled unit actually fits in the case. I've had other assemblies that unpack perfectly, but are difficult and at times almost impossible to put back in its container once assembled. I definitely recommend this Sphygmomanometer.

Best BP Cuff | Sphygmomanometer, black
I purchased this cuff 11 months ago. I use it every week as a volunteer fireman EMR. It looks and feels like it is very well made . I have found it to be very accurate. I recently had one issue with the bezel loosening and the number dial rotating appearing to be not calibrated. I simply removed the locking ring and bezel , then spun the dial head back up vertical and recalibrated the needle to bottom dead center and continued to use it. This was probably caused by having it in my vehicle all of the time. Just keep a check on the bezel ring that holds the glass over the dial and you should not have the same problem. I will purchase another one in the future!

great durability | Sphygmomanometer, blue
I am in healthcare and use my cuff at minimum 5 times a day and I usually have to buy a new one every 3-5 months, this has lasted me the longest thus far -going on close to a yearand I am pleased with the accuracy , has been one of the best purchases although now I notice the stitching by the "balloon" inside is beginning to loosen and this will be to its demise soon but going on 9 months of use

Excellent Product | Sphygmomanometer, pink
if you need a BP cuff this one is perfect. It literally came in a day. I use it for manual blood pressures and its awesome!

Great school gift | Sphygmomanometer, black
Bought this for my boyfriend going to paramedic school and he was definitely happy to receive it. Thank you and it works accurately and it came quickly thank you

Works great, from a paramedic in training | Sphygmomanometer, blue
This blood pressure monitor kit does what it's designed to do. I am still in training, but this has given me a lot of learning oppurtunies. This PARAMED Aneroid Sphygmomanometer is easy to use and works great.
Prices for Stethoscope and Blood Pressure Cuffs Kits
All your questions answered
A single person can use the stethoscope and blood pressure cuff kit and can measure their own blood pressure without assistance from another person. However, this is entirely subjective to the individual and their specific requirements and abilities. That being said, the manometer provides large and clear readings and the testing does not require intricate motor skills.
When having your blood pressure taken using the manual blood pressure kit, sitting up straight with your legs uncrossed is the ideal position to adopt. Rest your left arm on a conveniently leveled hard surface and your palm facing upwards. Palm must face upwards to provide accurate results. Throughout the procedure, be calm, refrain from speaking or moving in any way, and make an effort to breathe as regularly as you usually do.
The rules and requirements are few and are rather simple by nature. Before using the blood pressure cuff and stethoscope set, you must check all the components and attachments and make sure that the manometer does not need any calibration; always calibrate if necessary. Up to 15-30 minutes before taking a test, avoid consuming caffeine do not take a bath or a shower, and do not engage in any intense, physical activity. As you get ready for the test, try to relax, and then sit motionless and silent as the test runs.
All cuffs provided are a universal size made to fit the majority of adults; they measure arms between 8.7 to 16.5 inches. Cuff width is also a uniform size of 5,9 inches. If you're still concerned about sizing, you can measure the circumference of your arm.
The variation may be due to improper cuff placement, or by movement or talking during the test. This may also indicate the need for the manometer to be calibrated. Please also note that it is normal for one's blood pressure to slightly change throughout the day within normal ranges. Additionally, as with the usual instructions, avoid exercising, taking baths/showers, and caffeine 15-30 mins before the test, as these may also affect the validity of the results.