A durable and manual FDA-approved kit featuring a blue blood pressure measuring cuff that is beneficial, practical, and user friendly. This kit is equipped with a stethoscope.
Product Benefits
Foolproof usage and accuracy
This manual blood pressure measuring device is easy to operate, foolproof, can be operated individually, and is even more accurate than digital blood pressure devices.
Latex-free and quality material
The latex-free components of the blue blood pressure cuff kit make it suitable for those with allergies to latex. The high-quality materials also include sturdy hardware like the steel D-ring on the blue cuff, the metal body on the manometer, which is made of zinc alloy, and the premium Velcro on the blue cuff.
Reliable readings
The blue manual blood pressure device is easy to use, read, and even calibrate. In addition, the device does not need batteries or electricity to operate, meaning it can be used anywhere and anytime without worrying about recharging it.
Clip for a cuff
The manometer has a special fastening tool so that you can attach it in a place that's comfortable for you. It's convenient for the readout to be at eye level so that you can carefully monitor the pressure gauge.
Stethoscope included
This manual bp cuff comes complete with a stethoscope. This makes the device fully-fledged and ready to measure pressure. You will not need to acquire an additional stethoscope.
Lightweight, compact, and portable
The device is lightweight and comes with a special pouch that it snugly fits in, which makes carrying it around easier and more convenient.
Read some of our customer reviews

Excellent
Taking hubby's BP , easy to read, easy to use, stethoscope is excellent. Great buy!!

Great packaging and easy to use!
I needed to purchase this for a class (and future business) I am enrolled in. So far this product works very well. Great product for the price and easy to use.

Love this!
Accurate readings and even comes with instructions, for anyone whom might be learning or needing a little refresher on how to take someone's blood pressure. Some assembly is required, but it's SUPER easy to do. Very satisfied & highly recommend!

Product in excellent condition.
Got it on time for personal use. Works very well. Very satisfied with purchase.

ParaMed stethoscope good value
Easy to use, no need for batteries. You can rest assured that the reading you get is actual when you can hear your or your patient's heart beat to obtain the upper pressure until you can't hear it for the low pressure. Very good value for the price.

Great for the nurses
My wife is an RN and loves it. Keeps it in her vehicle to use when needed.
Why you will be happy with sphygmomanometer by Paramed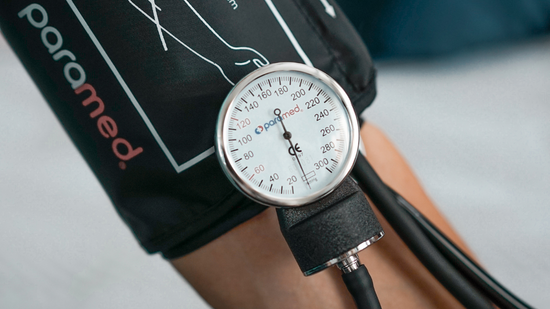 Professional Manual Blue BP Cuff Kit with a Stethoscope
This professional Manual Blue Blood Pressure Cuff Kit has been upgraded with sturdier material. The accuracy of the measurements and the user's comfort are our top priority, meaning you're getting a high-quality calibrated manometer with a comfortable and universally-sized blue cuff. With the elegant blue color, you're sure to measure blood pressure with style!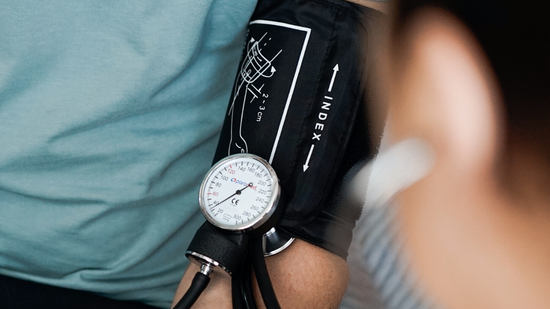 An indispensable device for accurate blood pressure measurement
With just a few tries, you can master how to use the manual blood pressure monitoring kit. And, you're in luck, because manual devices are considered to be more accurate than digital blood pressure measuring devices. This blue blood pressure cuff kit makes the process even more user friendly with its adjustable cuff and easy-to-calibrate and easy-to-use manometer.
Blue Blood Pressure Cuff Paramed Comfort: Specifications
 Model No.

:

Comfort blue

Measurement range

:

0~З00mmHg

Measurement precision:

±ЗmmHg

Scale grading:
2mmHg
Built to
ЕN 1060-1\2 standards
Pressure sensor:

Resistive

Package Dimension:

9.33 x 5.71 x 2.4 inches; 1.1 Pounds
What's in the box?
1 Cuff,
1 Stethoscope,
1 Bulb and Valve
1 Carry bag,
1 User manual,
1 Guide manual.
Blue Blood Pressure Cuff Paramed Comfort: How to use
1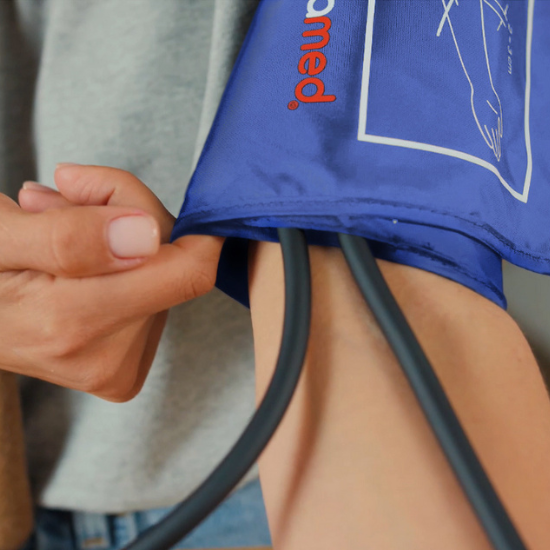 Wrap the blue cuff around your left arm
Do not exercise, consume caffeine, or smoke within at least 30 minutes before conducting the measurement. Wrap the blue cuff around your bare left arm, about an inch above the elbow joint. The primary wire of the blue cuff should run across the middle of your left arm.
2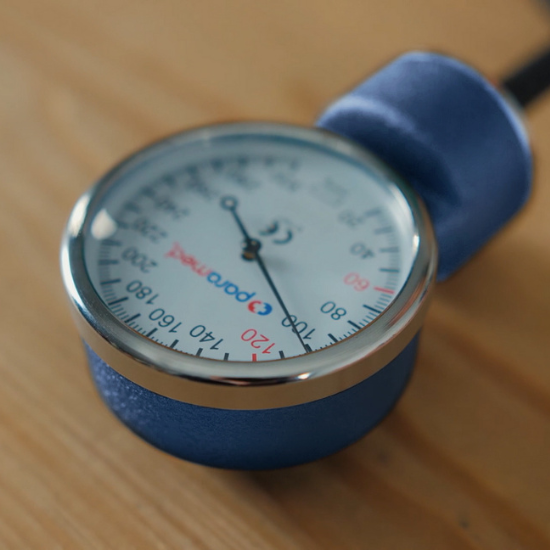 Place the manometer somewhere convenient
The clasp at the back of the manometer should be used to fasten the device somewhere that allows the examiner to clearly see the reading while the test is being conducted
3
Place the stethoscope properly
Tuck the bell of the stethoscope under the front of the blue cuff over the humeral artery. Try to listen very closely and to use this blood pressure cuff in complete silence in order to hear the Korotkoff sounds easily.
4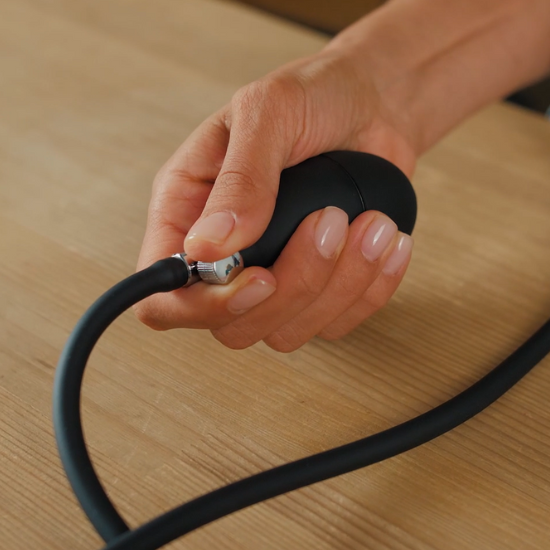 Pump air into the blue cuff
Start pumping the blue cuff with air using the inflation bulb. When the reading on the manometer reaches 30 mmHg higher than your average upper reading, stop pumping and begin to release some air from the cuff. As you release air, listen for heartbeats through the stethoscope.
5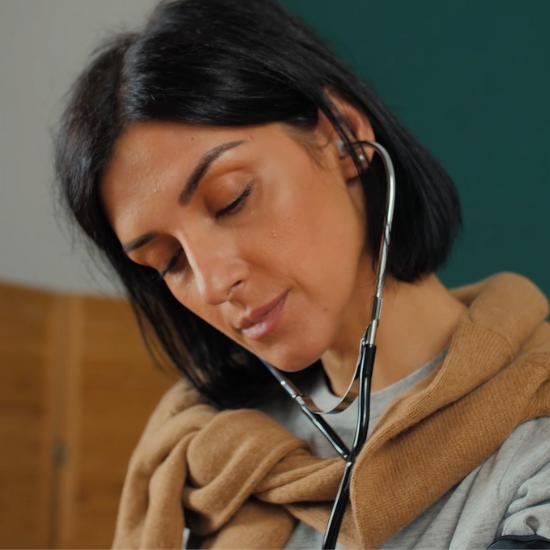 Accurately interpret the results
Upon hearing the first heartbeat, record the number the arrow is pointing at on the manometer. That is your systolic pressure, or upper number. When you hear the last heartbeat, record the number the arrow is pointing at on the manometer. This number is your diastolic pressure, or lower number. Note both numbers for future data tracking.
Watch our video to learn how to use this sphygmomanometer to get the correct result. 
All your questions answered
The manual blue blood pressure monitoring kit includes a blue cuff, an inflation bulb, a bag to store the components, a manometer, a calibration key for the manometer, and a stethoscope.
The only acceptable position for measuring your blood pressure is to sit up straight with your legs uncrossed. Your left arm must be resting on a table that is of convenient height (preferably at heart level). Your palm must be facing upwards as your arm rests on a hard surface. Stay relaxed throughout the process, avoid talking and moving, and attempt to breathe normally.
Yes, the blue blood pressure cuff kit is suitable for beginners. In fact, it is suitable for anyone who has the capacity to operate it. From medical professionals and students to average citizens who want a blood pressure cuff for home use, it is user friendly and can be utilized by anyone.
No, there are no varied sizes. The blue cuff that is included in the blood pressure cuff kit is a universal size, which is precisely 8.7 to 16.5 inches. This universal adult size is meant to fit most people. If you are still worried about the blood pressure cuff fitting around your arm, feel free to measure the circumference of your arm. Note that the width of the cuff is also standardized.
Customer service is available 24/7 every day of the week. Just email us. Our staff is friendly and more than happy to assist you with any questions and inquiries you may have. Your issues, if any, will be resolved promptly.
We are located in the USA. Usually, we ship the next business day after your purchase. Expected free delivery time: 3-5 business days. We also have an express delivery service. You can find out more about this on the checkout page (before paying for the order).