Manual Blood Pressure Cuffs (Sphygmomanometers)
Manual Blood Pressure Cuffs (Sphygmomanometers)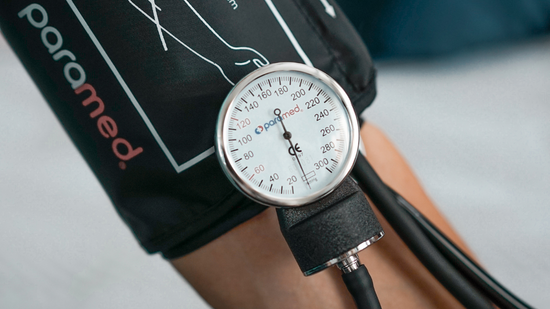 Why are the Paramed BP Manual Cuffs a good choice?
This FDA approved and latex-free manual bp cuff is designed with modernized mechanisms and sturdier material. The device has a large, clearly readable number dial and a high-quality metal and needle valve with smooth pressure relief adjustment. The manometer is made of zinc alloy and the cuff is made of premium Velcro. This device has undergone and passed extensive clinical testing to ensure that you get the most reliable results from your product.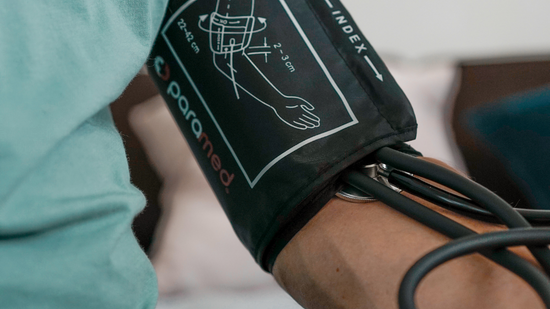 Is the Aneroid Sphygmomanometer right for you?
We all want to keep heart disease at bay, which is why we all need our very own blood pressure measuring kit at home to monitor and track a health status over time easily and conveniently. The aneroid sphygmomanometer is efficient, user-friendly, affordably priced, and accurate. In fact, a manual sphygmomanometer is said to be even more accurate than its digitalized counterpart. Additionally, it lasts longer, does not need any form of charging or batteries, and costs just a fraction of the price of a digital monitor.
Read some of our happy customers

Good item to have | Manual bp cuff, black
It is easy to use. Its accuracy is good compared to the electronic device, they were matching. Does not require any battery or electricity so perfect to use anywhere. but learn first how to use it and have a statoscope as it is not included

I don't see how they could get any better | Manual bp cuff, blue
I liked the bright, shiny look of every component of the unit. This tool has obviously been designed by engineers experienced in this type of product.

Works perfect but design could be better | Sphygmomanometer, black
Almost perfect except I am not a fan of the strapping mechanism through the metal bar. Makes it harder to use in the field. Other than that, fully functional, no complaints.

Great for the price! | Sphygmomanometer, black
I just received my bp cuff and stethoscope combo. The cuff is perfect. It's exactly what I need for nursing school. The stethoscope isn't the BEST but it's also not the worst. Any decent stethoscope it's going to cost $70+ so getting the cuff and stethoscope in one is a very good deal. If you have a harder time hearing, the stethoscope isn't going to be a great match. The earbud pieces do not cancel out ANY sound whatsoever which makes it incredibly difficult to hear the heart. If you have a quiet room and are paying close attention, you can hear what you need to, but you get what you pay for. It can be used. Honestly, I gave the stethoscope to my daughter to play with because I already have a littman, BUT IF YOU'RE ON A BUDGET, and have decent hearing, this will be able to get you through until you can get something better. The bp cuff is perfect. I'm happy with my purchase!

Fair price and product works great! | Manual bp cuff, blue
I give this manual cuff a 5 star rating. As an "old school RN", I don't have any faith in the electronic bp monitors that are out there today. The manual sphygmomanometer is the only way to go, and this one is excellent. I had to calibrate the needle by just a hair (thank you for including the screwdriver!) and it was perfect. The readings have been consistent and accurate. I love the fact that the cuff is so adjustable: It fits my very small upper arm, as well as my husband's very big upper arm. I would recommend this sphygmo to anyone — The importance of an accurate, dependable blood pressure reading cannot be understated.

It seems accurate, I recommend Sphygmomanometer, black
I bought this to sort out the differences between 3 digital monitors. this seems to be very accurate tomorrow I am going to my cardiologists house and with social distancing he is going to make sure that I am using it correctly.. Right now it seems to be the most accurate of the four bp devices I have. This is the only non digital one. It's very easy to use and unlike the first one that I bought it has a c clip so it's easy to put on your arm when you're by yourself. That was the reason I sent the other one back it had no clip and trying to get the velcro was it a nightmare to Fasten. I bought this and also the companion stethoscope from the same company and the instructions are very good for both devices
Prices for Manual Blood Pressure Cuffs (Sphygmomanometers)
All your questions answered
Yes, as long as your blood pressure remains within normal ranges, the variation is normal and even expected. Your blood pressure depends on what you do and consume at the time of, and slightly prior to, conducting the blood pressure test. It also depends on your health condition and whether or not you are on any medications (as some medications can slightly lower or raise your blood pressure). This also ties in to why it is so important to continuously monitor your blood pressure at home. It is also important, if you are on blood pressure medications, to track your measurements and see if the medication has been effective so far or not. For optimum results, make sure that you are using all the components of the device correctly, that you are conducting the test properly, the equipment is well calibrated, and that you are not caffeinated or have just exercised prior to the test.
Yes, you can use your manual blood pressure cuff multiple times in one sitting as you are able to re-test a few times in a row. However, please note that it is traditionally highly advisable that between usages, you should unclasp your manual blood pressure cuff, make sure your manometer is calibrated, and wait a few minutes between tests. Doing so ensures reliable and accurate results. Your manual blood pressure cuff is sturdy, made of high-quality materials, and should last you a very long time if stored properly and not misused.
No, the manual blood pressure cuffs are designed to be used by both professionals and non-professionals. The aneroid sphygmomanometer is used by medical staff in the hospital/clinic, and it can also be used by an average person at home. The manual blood pressure cuff is easy to use, dependable, portable, and can even be used to perform the test on yourself.
The manometer has a miniature rectangular figure placed underneath the readings. Whenever the device is not in use, and the arrow of the manometer is indicating somewhere within the confines of the rectangular structure, this means that the device is calibrated. Whenever the arrow of the manometer is beyond the borders of the rectangle, then calibration is needed. Insert the calibration ring into the air-guard of the manometer and rotate it sideways to bring the arrow back into the rectangle. It is advisable to check for whether or not your manometer requires calibration before every usage to ensure the most accurate results.
Yes, the manual blood pressure cuff is most definitely easily accessible and is able to be used by people with different needs. Accessibility has been considered in the following aspects when designing the blood pressure sphygmomanometer: the cuff is of universal size, meaning it can fit most people and the material is latex-free. The inflation bulb is lightweight, simple to handle, and no thumb action is required to maneuver it, which is beneficial for those with arthritis and other similar conditions. Finally, the readings on the manometer are large and clear, making reading the numbers possible for those with varied visual abilities.