The Single-Head Stethoscope Paramed RH 3009 is a versatile device that allows you to listen to high and low-frequency tones. It is convenient for listening to Korotkoff tones and measuring blood pressure.
Product Benefits
Aluminum head
The stethoscope head is made of aluminum, so it is extremely lightweight and easy to use. The aluminum also ensures the phonendoscope's strength and ability to hold its shape during use.
Diaphragm structure
It is made of a special polymer that makes it particularly sensitive, allowing you to listen to low and high-frequency tones. It is suitable for listening to Korotkoff tones when measuring blood pressure.
Comfortable ear tips
The soft ear tips prevent discomfort during the measurement of the patient's blood pressure. There are extra ear tips included, so you don't have to worry about losing the first one.
Read More from Some of Our Happy Customers

Awesome cheap stethoscope!
For the money this is an awesome stethoscope. I'm an RN and I have either purchased this or directed several of my patient caregivers to buy this one. It's not a world beater, But you would not expect it to be.

Good price for a jump bag stethoscope
Sprague style ears are better in the field but I prefer something a little less cumbersome. This one is very similar to the Littmann Master Classic. Look, it's not equal to a $200 device but it does the job in a pinch. Would I use this if I were a cardiologist, no, but for a jump kit it will do just fine.

Worked for our purposes.
I purchased this to be able to hear if there were any more puppy heartbeats so we would know when whelping was finished. Then we loaned it to a friend whose dog was having breathing problems, and she was able to keep a closer ear on his condition. Then we loaned it to another friend whose dog had pneumonia, and she was able to keep a closer ear on her condition. It wasn't expensive, I'm glad I have it, and it's been helpful when needed. I would recommend if you need something like this.

Not too bad for the money!
I work in a busy OB/GYN office and this stethoscope has worked well for me especially for the price. The sound quality is pretty good. The only complaint I have is the ear pieces are hard and don't shape to my inner ear well. I think if they improved this or offered a second set so you could choose my rating for sound might even go up. I like having the single bell, my old one kept turning on me.

Amazing Customer Service
My initial one I was not able to hear out of. The owner of this company emailed me regarding the unit I had and my negative review. She immediately sent a new one out to me, and followed up to ensure I had the quality she knew she was selling. The second one, was much more clear this time. I appreciate a company that knows their worth and works to ensure their customers are satisfied!

Read the instructions before use :)
When I first tried to use this I thought it wasn't working; however, I realized after reading the instructions you have to have them on correctly to hear anyting. Make sure they're facing the right direction when putting them in your ears. For the money they seem to work well.
A must have for home and professional use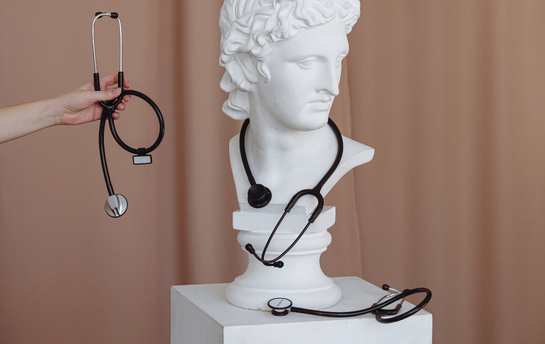 Who is a paramedic stethoscope suitable for?
The stethoscope, which is the most recognizable medical instrument from ancient times to the present day, often symbolizes doctors. Such devices are used to listen to the sounds coming from the heart, lungs, intestines, and other internal organs. Obstetricians and gynecologists also use the device because it makes the heart rhythm of children in the womb well-defined. They are also used to auscultate (listen to) Korotkoff tones while measuring blood pressure.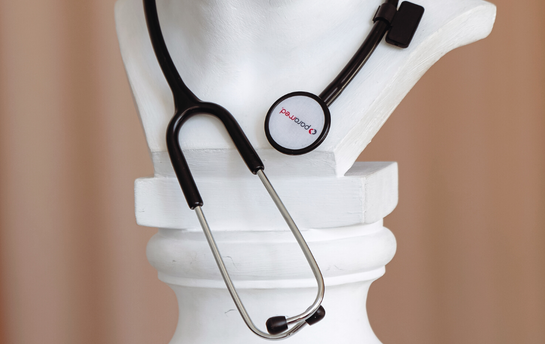 Why is the Paramed stethoscope good at what it does?
Paramed single-head stethoscope captures both low- and high- frequency sounds within a full audible range. Single-sided chestpiece allows detection of both high and low frequencies without changing position and losing a landmark. Features a lightweight headset and soft-sealing eartips that ensure comfort and a good seal in the ear. The new generation elastic pipe saves the shape and flexibility even after tight folding in the pocket. The length of the pipe (75cm/29.5 inch) allows us to create a comfortable distance between the doctor and the patient.
Single Head Stethoscope Paramed RH 3009: Specifications
| | |
| --- | --- |
| Model No.: |  RH 3009 |
| Material: | Stainless Steel |
| Color: | Black |
| Length: |  75 cm / 29.5 inch |
| UNSPSC Code: | 42182103 |
What additional features does our Single Head Stethoscope have?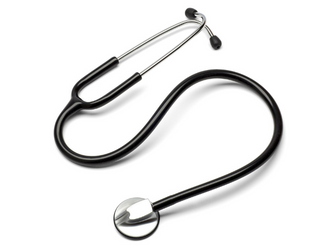 Get reliable results
Ensure you get the accurate information possible when it comes to your patient's vitals with the Single Head Stethoscope by Paramed.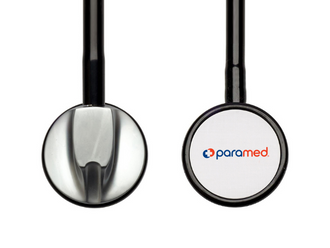 High-quality material
Cardiac stethoscopes are created from the latex-free materials, with a stainless steel head and non-chill rim. Suitable for both nursing and doctor practice.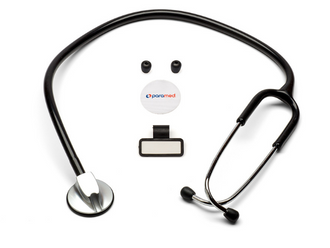 Full set
Two replacement soft ear tips, name tag holder, diaphragm replacement inside carry case.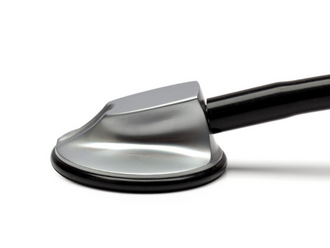 Anatomically designed
Headset is angled to channel sound directly into the ear canal via a binaural master tubing and soft ear covers.
What's in the box?
1 Dual Head Stethoscope

2

 

Extra Ear Buds

1 Extra Diaphragm

1 Name Tag
1 User manual
All your questions answered
The Single-Head Stethoscope Paramed RH 3009 is a classic single-head phonendoscope for listening to the sounds of different internal organs.
The Single-Head Stethoscope is available over-the-counter. You do not need a prescription to purchase it.
A classic stethoscope is an elongated, hollow tube that has a «shell» at one end that is placed on the ear and a funnel-shaped end. The funnel is placed against the body. Stethoscopes allow you to hear low-frequency sounds better. They are used to listen to the heart and intestines. Medical stethoscopes can also be used in obstetrics to listen to the fetal heartbeat.
Keep the device clean, but do not steam it. Just wipe it with alcohol or soapy water.
The main difference between the two instruments is that one helps you listen to the upper tones and the other to the lower tones. The membrane of the stethoscope muffles all the lower tones. With the phonendoscope, however, the lower tones kind of drown out the high-frequency vibrations. The structure differs only in the presence of an additional diaphragm.
Featured Products