Paramed's RH 3012 dual-head stethoscope is designed for listening to the internal organs, including heart and lung tones. It is also very convenient for listening to Korotkoff tones for blood pressure measurements.
Product Benefits
Comfortable
The stethoscope head is double-ended, lightweight and made of aluminum with a plastic ring overlay. It is equipped with ear plugs which allow for advanced comfort and ideal acoustic transfer. Soft silicon earphones are hygienic and adapted to the anatomical structure of the ear, protective of the ear canal.
Sound amplification
The instrument has a double-turnover bell, topped by a ring that is large enough to amplify the sound and isolate low frequencies. The U-like thickened sound tube offers increased sonic conductivity.
Durable and reliable
Its double head is lightweight and durable, and the instrument's acoustic Y-type tube is made of thick and durable PVC, so it is latex-free, is perfectly soundproof, and does not crack even after long and intensive use.
Read More from Some of Our Happy Customers

It works
You get what you pay for. This is not a high-end cardiology stethoscope but for taking blood pressure at home it's perfect for the job.

This is really handy with children
Great price for a good product. Used to check great grand babies lungs when they had colds this winter.

Very worth it
Works as a professional because had a nurse exam it and got rated a 5 stars. Very proud of it.

Good First Stethoscope!
I'm a respiratory therapy student and bought this stethoscope last year for clinicals. One year later, and I'm still using it! It has held up very well. The sound and quality are both fairly good (though it is harder to hear fine crackles with this one). The only comment I have about it is that the white part doesn't hold up too well to alcohol swabs/other types of cleaning materials. I've had to replace it once. It's not real fancy, but still a good first stethoscope to use at clinicals!

Great value for your money
I tried your product and I'd rate it a 5! Its great for nursing school, especially the price, to practice and I like that it came with bonus accessories!! I was recommended this product by a fellow nursing student and I will tell future students.

I am a retired RT who used a stethoscope like this during my working years. Although not expensive, it is a solid product that gets the job done. Unfortunately, I lost my old one during a 650 mile move, so I needed a replacement. It's always good to have one handy during flu and pandemic season.
Clinical stethoscope for different needs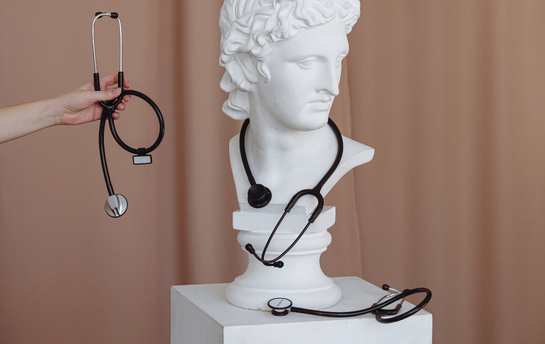 Do you need a clinical stethoscope?
A stethoscope is a clinical tool that allows you to listen to sounds in the heart, blood vessels, intestines, bronchial tubes, and other human organs. The most common uses of this instrument are to listen for the Korotkoff sounds when taking arterial blood pressure and to find a tube during stomach pumping or introjection nutrition.The stethoscope by Paramed is used for all listed cases. If you are looking for a reliable device for diagnosing and listening to Korotkoff sounds, this device is a good choice.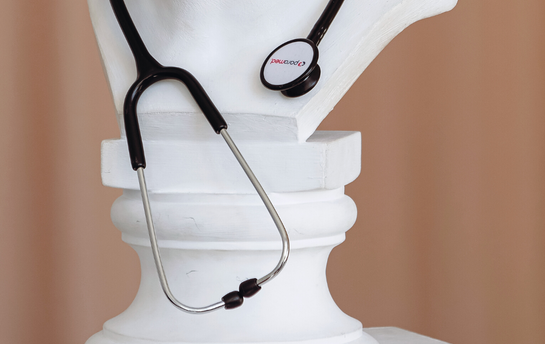 Bilateral stethoscope for home use
It is easy to use at home. Very often it is used to listen to the heart rate or breathing of sick relatives. To hear the sounds clearly when listening to a person, it is important to position the stethoscope correctly. We write about this below. But even at home, the Paramed stethoscope is a simple health monitoring device. It can also be used with a sphygmomanometer for blood pressure control.
Dual Head Stethoscope Paramed RH 3012: Specifications
| | |
| --- | --- |
| Model No.: |  RH 3012 |
| Material: | Stainless Steel |
| Color: | Black |
| Length: |  22 inch |
| UNSPSC Code: | 42182103 |
What's in the box?
1 Dual Head Stethoscope

2

 

Extra Ear Buds

1 Extra Diaphragm

1 User manual
How to use it correctly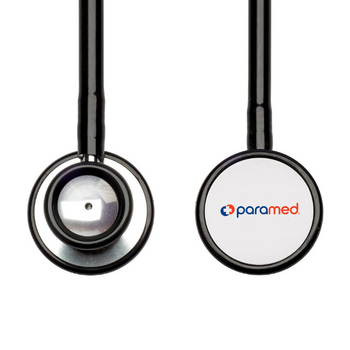 Patient position
When listening for abdominal sounds, have the patient in a supine position, with the abdomen exposed, for better audibility. Auscultate the abdomen, conventionally dividing it into four parts, listening to each area of the abdomen.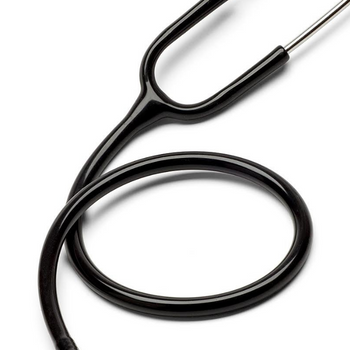 Place the stethoscope
The membrane side (high frequencies) and the funnel side (low frequencies) can be alternated by turning the stethoscope head. It needs to be firmly placed on the skin while listening.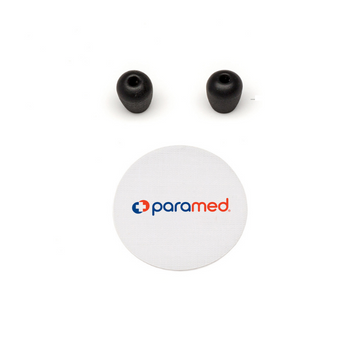 Stethoscope & cuff
When measuring blood pressure, wrap the blood pressure cuff around the arm above the elbow. The diaphragm should be placed just below the edge of the cuff and fit tightly against the brachial artery.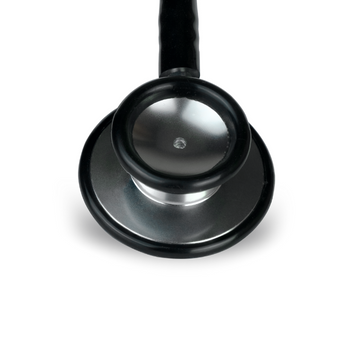 Check the sound
You can check which side is active by locating the open/closed funnel opening, or by touching the membrane with your finger while the headphones are in your ears
All your questions answered
Doctors use clinical dual-head stethoscopes daily to listen to the heart and lungs of patients of all ages. Most doctors choose a dual-head model to be able to auscultate both adults and children with the same instrument.
Yes, it can be used at home, mainly for measuring blood pressure.
The difference between a stethoscope for clinical and home use is only in how often it is used. Hospital doctors use them more frequently and use newer devices to diagnose diseases.
Typically, these professionals choose an electronic stethoscope to take advantage of the high-precision acoustics and display of lung or heart sounds. These are more expensive, but their quality will allow you to listen to high and low frequencies to identify possible cardiac or pulmonary abnormalities.
Veterinarians use a stethoscope that looks like a conventional mechanical stethoscope. It is only suitable for listening to the sounds of specific species of wildlife.
Featured Products