An FDA-approved and clinically proven digital device that measures Blood Pressure (Systolic and Diastolic) and Heart Rate (indicating the presence of an irregular heart beat). The Automatic Blood Pressure Machine is a high quality and easy to use on a daily basis by people of all age groups.
Product Features
2-Users; 120 memory sets
The device can save up to 120 data readings for two different users (labeled A and B). It can also show you any significant changes in each user's blood pressure.
Self-checks cuff positioning
The device will indicate if the cuff is correctly positioned on your arm. This will help you get objective blood pressure measurements. The 'cuff correct' symbol will be displayed if the cuff position is correct.
Large, easy-to-read LCD screen
The digital device is equipped with a large LCD screen so that it can display the readings in a clear and easily readable fashion. The large screen also makes it more user-friendly.
Talking function
After measuring the blood pressure, the device will pronounce the result in a pleasant female voice. The voice acting can be made quieter or even turned off.
Universal cuff size
Selecting the correct cuff is extremely important, Cuff size is dependent upon the circumference of the arm (measured in the center). The permissible range is 8.7 inches - 15.7 inches (22-40 cm).
Arrhythmia detection
If you see three heart symbols on the screen, it indicates that the device has found an arrhythmia, which is a disruption in your heartbeat. If the symbol appears several times in a single week, we recommend going to a doctor.
Read More from Some of Our Happy Customers

Well Worth The Investment
I am impressed. As an RN, I am painfully aware at how important accuracy is, especially with monitoring the blood pressure. I have the Paramed Digital Wrist BP/P and purchased the Upper Arm to check and monitor BP accuracy for my Physician's peace of mind with my "home" readings. Both items are well worth the purchase if you're looking for ease and accuracy.

Great blood pressure monitor!!!
Working in a Pharmacy I have the opportunity of using different blood pressure monitors on both myself and others. It's interesting watching results and studying them for me. This monitor is surprisingly accurate! Much better way to check then using the machine at the pharmacy that I service. Fairly comparable to the Omiron brand.

Very precise, would recommend!
This product works fantastic!! It is very sensitive and if anything is even a little off it will read an error. This seems annoying at first, but the error key helps you identify what the issue is right away and this feature prevents the device from ever giving an inaccurate reading. I'd much rather the device was a bit overly cautious than inaccurate.

Love it!
I'm a school nurse and I have used many different (and always more expensive) blood pressure monitors in the clinic. I'm extremely impressed with this machine. It's accurate, it's incredibly fast, and it even talks to you. And you can't beat the price.

Great Value
It's a lot less expensive and, according to my doctor, more accurate than those devices that connect to your phone. I took it to my doctor's office and compared readings with her machine. It was an exact match.

Used by everyone in the family
This blood pressure monitor is accurate and works so well. Even very senior members of my family can use it without difficulty. It's not technical at all. It's as simple as putting it in the arm and pressing a button. The readout voice is clear and professional. I bought it 2 years ago, but I have never had it at my home, lol. It has been making the rounds at friends and family's house. Everyone loves it very much.
What additional features does our digital BP monitor have?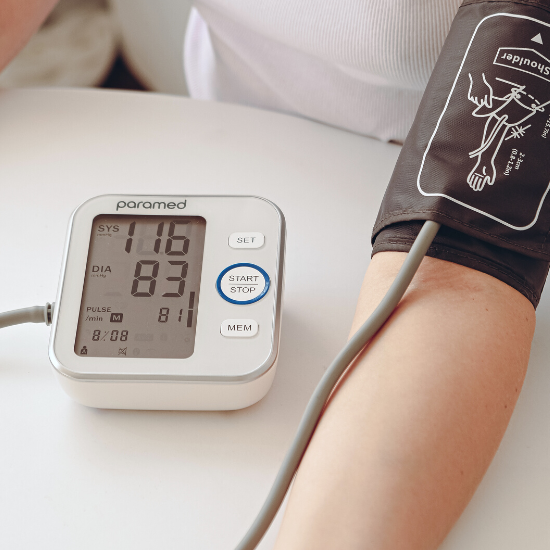 Talking function
After measuring the blood pressure, the device will pronounce the result in a pleasant female voice. The voice acting can be made quieter or even turned off.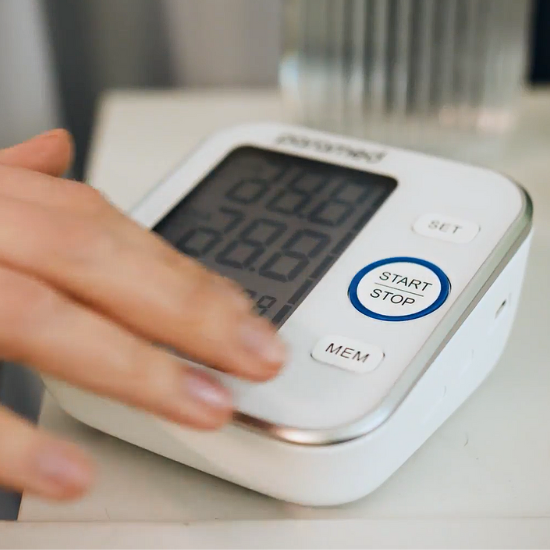 Additional info on the display
When the device is turned on, the time and date will be displayed on the screen. The device will show you if the battery is low so you can replace it in time.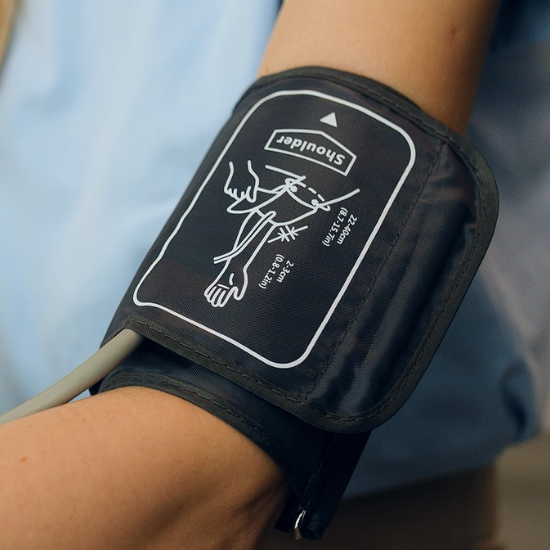 Average value and WHO functions
The display shows an average of last 3 times measurements stored in the unit. The device will show in what range your blood pressure is, according to WHO standards.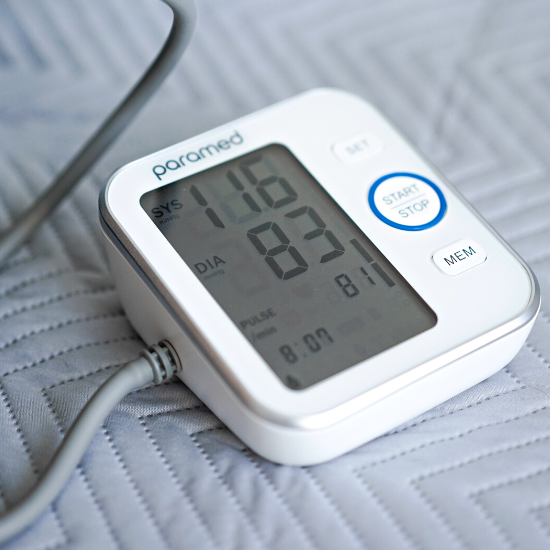 Full set and power adapter support
4 AA batteries as well as a carrying bag for convenient storage and carry included. You may also operate this monitor using the AC adapter (output 5V d.c./1A with Micro USB plug).
Why do you need a blood pressure and heart rate machine by Paramed?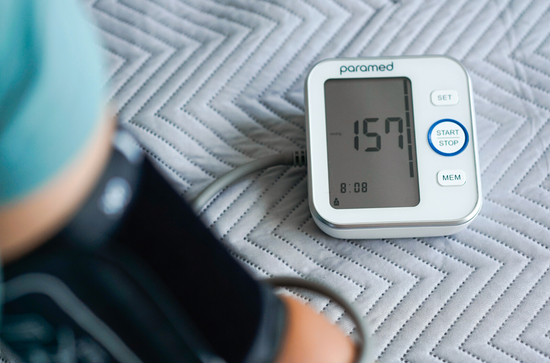 Blood Pressure and Heart Rate Machine
With issues of high blood pressure on the rise, particularly among younger people, consistently measuring one's blood pressure is more important than ever. Consistent reading allows us to track and identify an upcoming health crisis faster and more accurately. With the high-tech Blood Pressure and Heart Rate Monitor from Paramed, you can safely and flawlessly assess these values from the comfort of your own home. This easy-to-use gadget has made the process simpler than ever!
Ingenious built-in features
This advanced automatic Blood Pressure and Heart Rate machine has several features that make it efficient and user-friendly. It is important to be relaxed when taking blood pressure and heart rate readings, and this device offers users the option of listening to pleasant music to help soothe them. Also, the positioning of the cuff is checked by the device itself, and it alerts the user of improper positioning. Such innovative features and more make this gadget a leading product in its field.
Blood Pressure and Heart Rate Monitor Paramed B22: Specifications
 Model No.

:

B22S

Measurement range

:

DIA: 40-130 mmHg

SYS: 60-230 mmHg

Pulse: 40-199 beats/min

Cuff pressure range:

0-299mmHg

Accuracy:

Pressure +3 mmHg (0.4kPa)

Pulse: +5% of the reading

Measuring method:

Oscillometric

Pressure sensor:

Resistive

Dimension:

118x110x57mm

4.65x4.33x2.24in

Power source:

Internal - 4*AAA batteries, 1.5 V

External - DC 5V1A

LCD size:

64x95mm (2.52x3.74in)

Cuff perimeter:

8.7-15.7in (22-40 cm)

Weight

:

252.1 g

Package Dimensions:

6.54 x 5.28 x 4.02 inches; 1.23 pounds
What's in the box?

1 Main Device,
1 Cuff,
1 Carry bag,
1 User manual,
1 Guide manual,
4*AAA batteries.
Blood Pressure and Heart Rate Monitor Paramed B22: How to use

1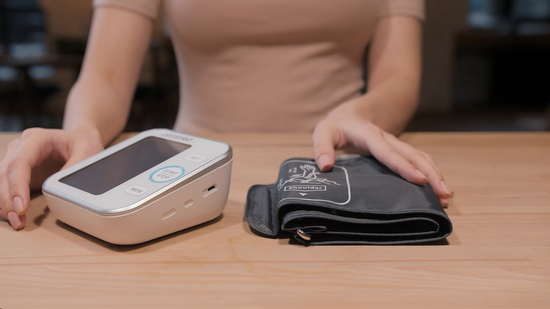 Try to rest and unclench
You must try your best to be relaxed so that the device can record accurate measurements. Avoid strenuous activity and caffeine for at least 30 minutes prior to using the device.
2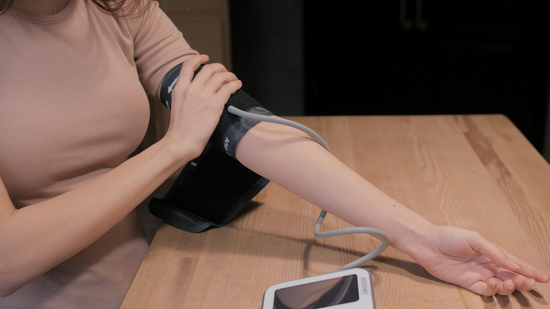 Correct cuff placement
The cuff must be placed on your left arm, about an inch above your elbow joint, with the tubes running down the middle of your arm, facing your body and hanging down. If the cuff is not placed correctly, the device will warn you before proceeding.
3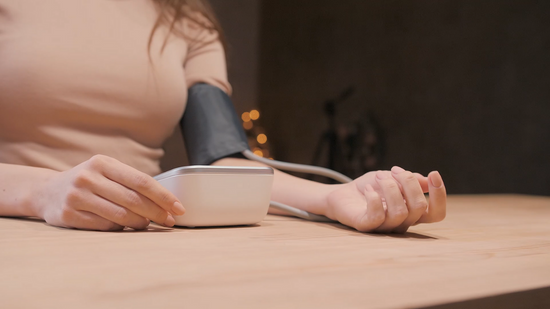 Correct body positioning
At this point, it is vital that you are seated in the correct position. Sit up straight, with your left arm placed on a table or a hard surface at a convenient height and your palm facing upwards.
4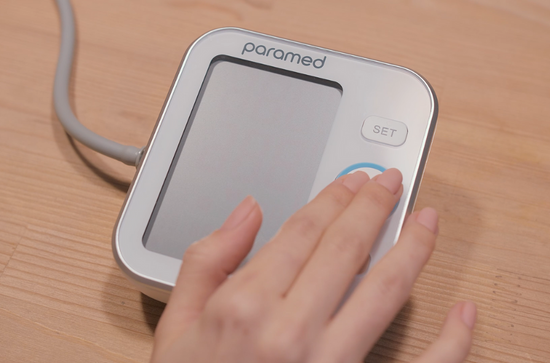 During the test
Press the button, and the test will begin promptly. It is crucial that you breathe normally and relax and do not talk or move in any way, as these activities may affect the results of the test.
5
The results are up
About a minute after beginning the test, the results will be portrayed on the large screen. Your results will include your diastolic and systolic readings and heart rate. If you wish to repeat the test, remove the cuff, wait a few minutes, and then repeat the process.

Watch our video to learn how to use the blood pressure monitor to get the correct result. You will also see how to set up a monitor there:



Relate with you
We are easy to talk to and we always reach a compromise with clients and partners. Just send us an email and we will resolve all issues.
We're responsible for our products
Our products are thoroughly tested and have all the necessary certificates to prove their safety.

Products that our customers just love
Not a single product in our line will complicate your life. On the contrary, we strive to create products that are as useful and simple in use as possible.

We keep prices at an acceptable level
The prices on the online store are always lower than the prices of similar products on Amazon.
All your questions answered
The safety of the measurements of the device is confirmed by the agency of the Food and Drug Administration (FDA). Also this device is manufactured to meet the following European blood pressure monitor standards: EN1060-1, EN1060-3, IEC 80601-2-30, 1ISO81060-1, IEC60601-1-11, IEC60601-1. Device fulfills the stipulations of the Intemational Standard IEC60601-1-2 of Electromagnetic compatibility.
We are located in the USA. Usually, we ship the next business day of your purchase. Expected free delivery time: 3-5 business days. There is a possibility of urgent delivery.
Our cuffs are universally sized. This means that their fitting range is between 8.7 inches and 15.7 inches. If cuff size is a concern for you, we advise that you measure your arm circumference.
Yes, the voice relay is merely an option that makes this talking blood pressure machine more user-friendly for people with varied needs. It can be turned on and off by the user at any time.
The 3-heart sign is an indication of arrhythmia, or irregular heartbeat. Repeated portrayal of this sign requires a doctor's intervention, and it is advised to consult your physician about this result.
The blood pressure monitor can alternate between the saved data of two different users, labeled as A and B. To access this feature, simply press and hold the "SET" button for longer than 3 seconds, and an "A" symbol should appear on the screen. To switch between users, press the "MEM" button, and the "B" symbol should appear. To save your preferred option, press "SET" again, and then turn the screen off.
While the blood pressure and heart rate machine comes with four AAA batteries so it can be used instantly, it can also be operated using an AC adapter. Note that the AC adapter is not included with the device.
Featured Products