This XL electric heating pad with auto shut-off, Paramed H21B, is a great choice for relieving pain and increasing warmth throughout your body: neck and shoulders, back, waist, stomach, legs, and more. Maintaining a consistent temperature helps soothe sore muscles and other body parts. This luxurious plush microfiber electric hot pad provides ultra-soft heat application to treat various joint pains, including arthritis.
Product Features
Soft material
This reusable electric warming pad is made with coral fleece & warp knitting fabric. Because of its texture and material, using this device is very comfortable. You can use this pad to relieve back pain, sprains and muscle tension or when you want to warm up.
Adjustable heating parameters
Depending on your mood and/or doctor's advice, you can switch between therapy, low (129°F), medium (138°F), and high (147°F) heat. This extra-large heating pad (12" by 24" size) with automatic shut-off is suitable for everyone.
Automatic shut-off
After an hour or two of relaxation, you might fall asleep. The auto shut-off, which activates at 90 minutes, will turn off the device to prevent excessive heat. With this mode, you don't have to worry about power fluctuations or the risk of catching fire because it will turn off automatically.
Read More from Some of Our Happy Customers

It helps my sore back
Heats up pretty quick, the lower settings usually warm it up just enough for me. Love it

Love it
This is large and works Great! I got it for a pulled muscle in my leg but since then I've used it on my back, my neck...it's great.

Lie the size and softness
Love everything about this heating pad except maybe the temperature control. It's a light touch control and is easy to accidentally turn off. The size is extra long. Made from soft velour material. I sleep with it every night.

Working great
Size is nice and long, to cover the back from neck to tail bone or both shoulders or lower back. Price was really good too. Heat is amazing and really can feel it.

Great size, but not hot enough for me
Great size, perfect when I have my monthly cramps. However, I wish the high temperature setting was hotter. Severe cramps need very high heat. I kept the product and still use it, just not quite what I was wanting.

Love that it's big
I really love the size of this heating pad. It can wrap around my side perfectly. I have fibromyalgia so this is something I use often. I also like that it shuts off after two hours. The only con I have is the length of the cord, it kind of becomes a nuisance at times.
What additional features does our extra large heating pad with auto shut off have?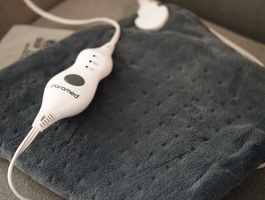 Long cord
It comes with a 7-foot cord that allows you to enjoy your heat session from the comfort of your bed or chair, without hindrances.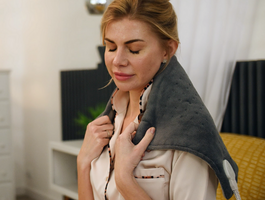 Machine washable
The heating pad can be washed in the washing machine or by hand. Just unplug the cord from the heat pad before washing.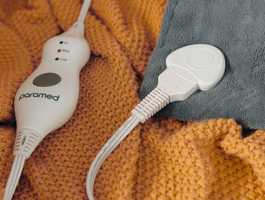 Large size
12" by 24" size, it's perfect for covering large muscle groups in your back, neck, shoulders abdomen or legs.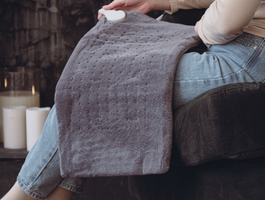 Storage bag included
Device comes with a handy storage bag. This will allow you to store the device neatly in one place, as well as take it with you.
Why is extra large heating pad an indispensable thing in every home?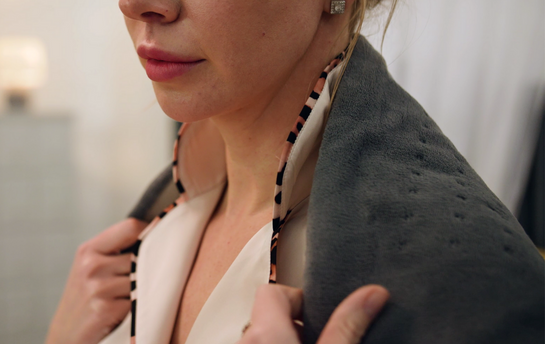 Heat therapy for pain relief
Flexible warmers allow you to enjoy heat therapy at home. This is the easiest way to provide effective pain relief. Heat dilates blood vessels and increases the body's access of oxygen. As a result, muscle spasms and pain are greatly reduced. Treatment with heat helps to improve blood circulation. In addition, heat can help to normalize sleep. Also heat therapy is good to use it to relieve the pain caused by some forms of sciatica.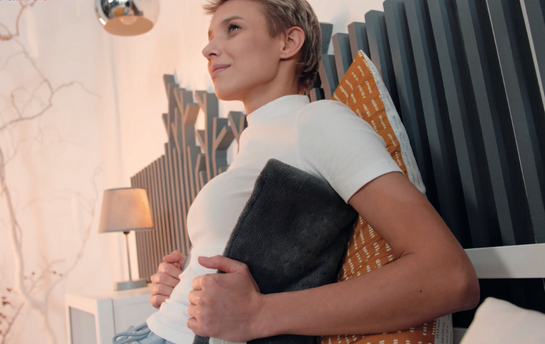 In what cases can a heating pad help?
The device will be useful in the following conditions: chronic diseases of the spine, dislocations and fractures, radiculitis and neuralgia, muscle contractions (painful joint conditions when a limb cannot be fully straightened in one or more places), menstruation and other muscle spasms. For general body warming after a long period at a low temperature, an electric heating pad is the best cure.
Heating Pad XL Size Paramed H21B: Specifications
Model number:
NA-H21BF
Color:
Grey
Heat setting:
Low - 129 °F
Medium - 138 °F
High - 147 °F
Dimensions:
12 x 24 inch
Cord lenght:
85 inch
Voltage:
120 VAC
Frequency:
60 Hz
Wattage:
160W
Amperage:
1.3A
What's in the box?

1 Main Device
1 Cord
1 Carry bag
1 User manual
Heating Pad XL Size Paramed H21B: How to use
This device is meant to be used to heat human skin. It allows you to target the heat to help you apply it. The warmth increases circulation and relaxes the muscles. It should be kept away from babies, small children, people with cognitive disabilities, and pets.
1 bookmark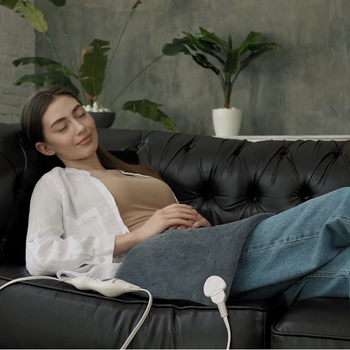 Choice of temperature
You can get the fastest heating from this pad by setting it on the highest temperature setting at the beginning. Later, if needed, you can switch to a lower temperature setting.
2 bookmark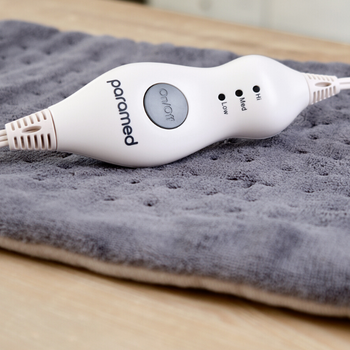 Automatic switch off
A hot pad with an automatic switch-off stops heating 120 minutes after the device has been switched on. When an item is no longer needed, switch it off or pull the plug out of the socket.
3 bookmark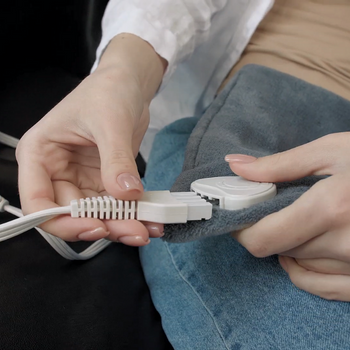 Cleaning and care
Always remove the power plug from the socket before washing the heat pad. Minor stains may be removed with a cloth or damp sponge, using a little liquid detergent. Only use the heating pad only after it is completely dry.
4 bookmark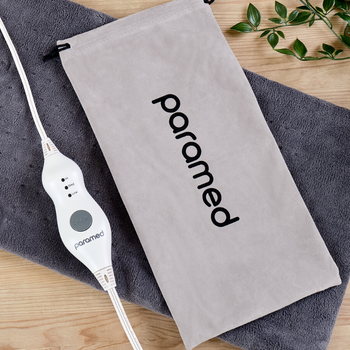 Storage
If you do not use the heating pad for a long period of time, it is recommended to store it in its original packaging in a dry place with no other objects on top.
Watch our video to learn how to use the heating pad by Paramed correctly. 


All your questions answered
The maximum temperature is about 147 °F at the maximum setting. You may need to use a lower temperature depending on the application and your personal preferences.
Machine or hand wash the xl heating pad with automatic shut off using mild detergent, cool water, and a gentle/delicate cycle. Unplug the cord before washing. Do not dry in the washing machine. Make sure the product is completely dry before using it.
It will heat the most quickly if is set to the maximum temperature when it is turned on (approximately 10 minutes).
First of all, keep away from the throat and nose if you are suffering from purulent inflammation. Finally, do not use it to treat stones in the gastrointestinal tract with stones, salt deposits in the liver, or intestinal spasms in the abdomen.